As with most things young people prefer to spend their money on, couples tying the knot today are looking for experiences rather than material goods. Throwing a bachelor or bachelorette party before the big day is no exception, and more than party favors or gifts, brides and grooms are curating over-the-top destination festivities that get bigger and bigger every year.
But in the quest for the most memorable events, how likely is it that things will get out of hand rather than go off without a hitch? Movies like "Bridesmaids" and "The Hangover" may seem like exaggerations of how bad things can get, but are they really that far off?
To find out, we surveyed 996 people who either hosted or attended a bachelor or bachelorette party about where they went, how much they had to drink, and what their biggest regrets were once the dust settled. Read on as we pull the veil back on how many parties end with remorse.
Worse for Wear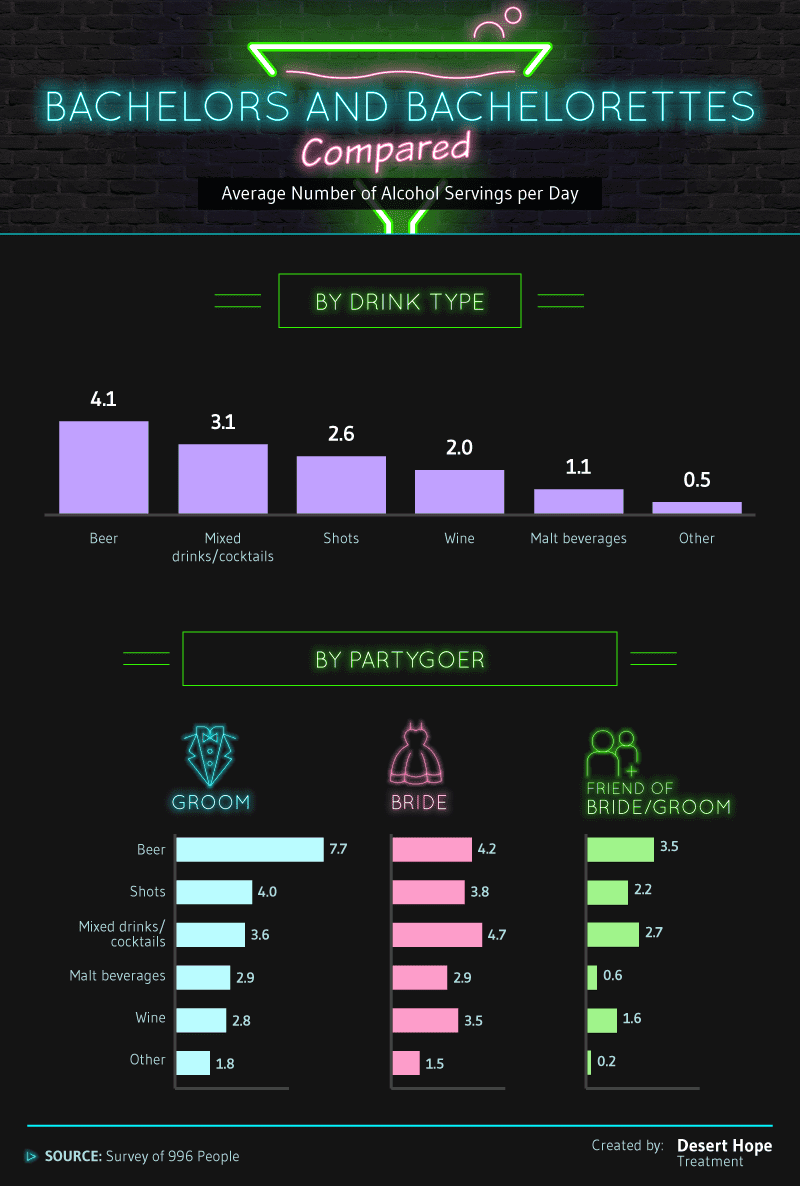 Bachelor and Bachelorette Confessions Analyzing Average Number Of Alcohol Servings Per Day
You probably only need to hear about a few bachelor or bachelorette parties to know that sometimes "one last fling before the ring" can gohorribly wrong. And while alcohol isn't always involved in the festivities, it can play a key role in turning a good time into a nightmare.
The reality is that while a few drinks might not lead to disaster, binge drinking certainly can. If a bachelor or bachelorette is a day-long affair that also extends into the night, we could be talking about a lot of drinks. We asked each respondent to write in the number of servings they consumed of each type of alcoholic drink, writing "0" to indicate they had not consumed that particular beverage. On average, beer-drinking grooms reported having almost eight per day. Besides just beer, grooms potentially consumed around four mixed drinks, or four rounds of shots in one day. Considering having five or more drinks in a two-hour period qualifies as binge drinking for men, there's no question there's excessive alcohol consumption at these parties. Brides consumed a few drinks less than grooms, and varied on their drink choice. Brides inclined to drink mixed-drinks, and consumed around five on average in one day.
Pre-Wedding Excessive Drinking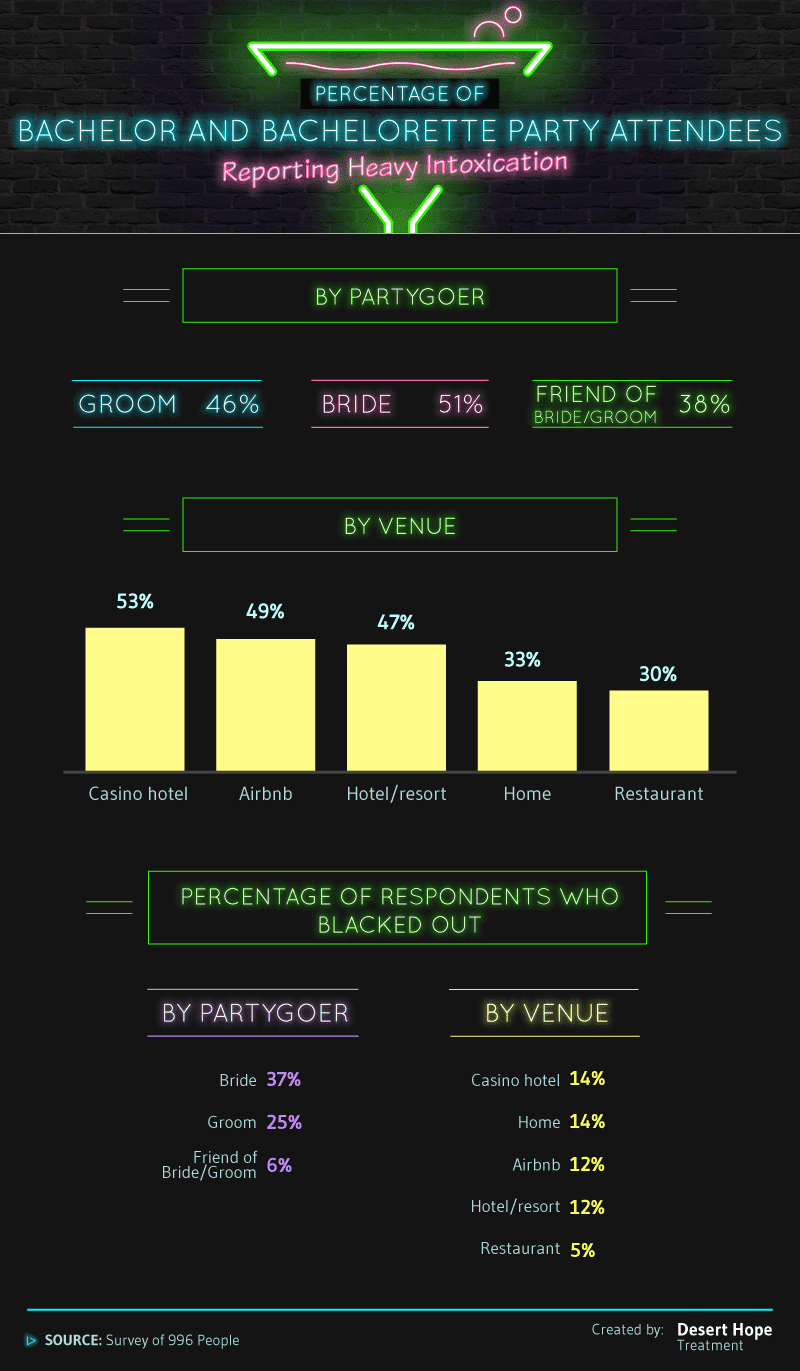 More than the people you decide to invite, or the theme you're going for at your bachelor or bachelorette party, the location could be easy indication of what to expect. Fifty-three percent of people who'd hosted or attended a bachelor or bachelorette party in a casino hotel reported heavy intoxication.
Getting extremely drunk during a pre-wedding celebration was more common among brides (51 percent) than grooms (46 percent). The level of heavy inebriation experienced also came down to the venue: Parties hosted at home (33 percent) or at a restaurant (30 percent) saw less heavy intoxication; however, 14 percent of respondents celebrating a bachelor or bachelorette party at home blacked out due to the overconsumption of alcohol.
Checking Off Party Actions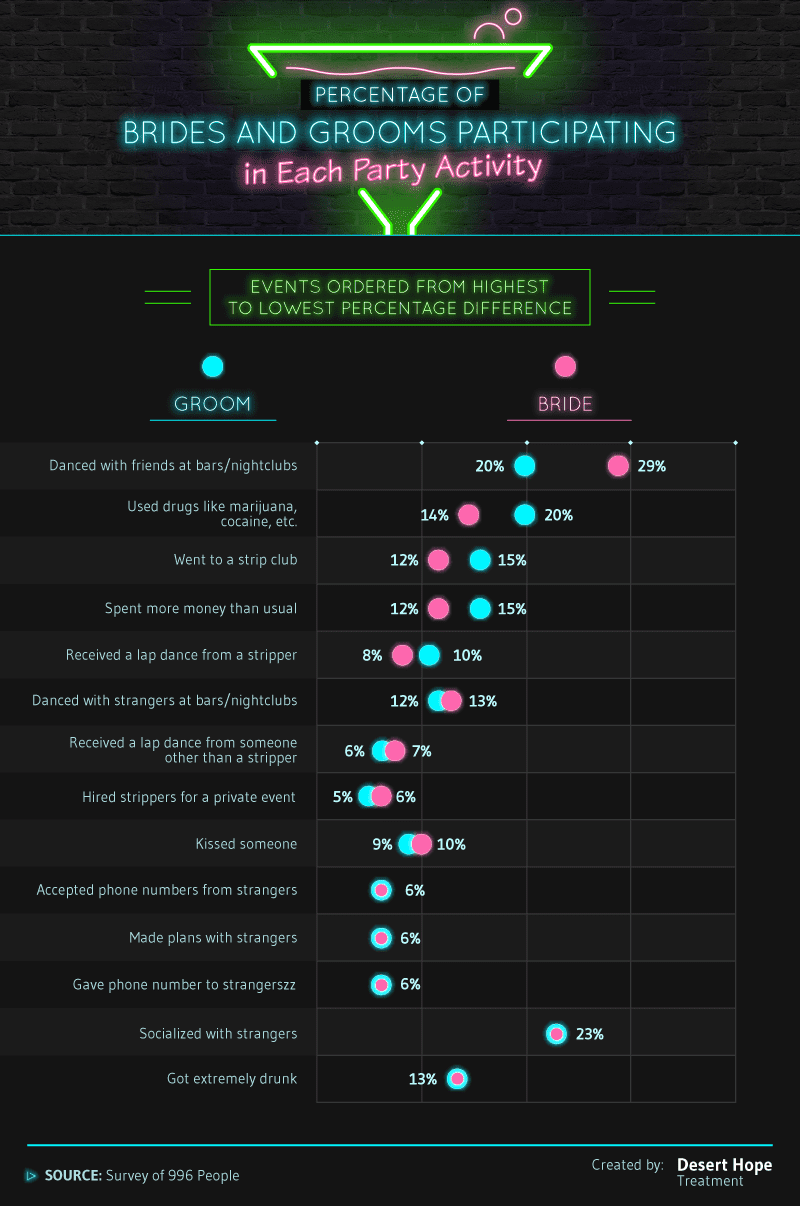 Twenty-nine percent of brides reported dancing at bars or nightclubs with their friends. Grooms also enjoyed dancing at bars or nightclubs (20 percent) but were more inclined than brides to stop a strip club (15 percent), get a lap dance from a stripper (11 percent), and spend more money than usual (15 percent) as a part of the festivities.
Brides and grooms also used drugs like marijuana and cocaine more often than they got extremely drunk.
Escalated Activities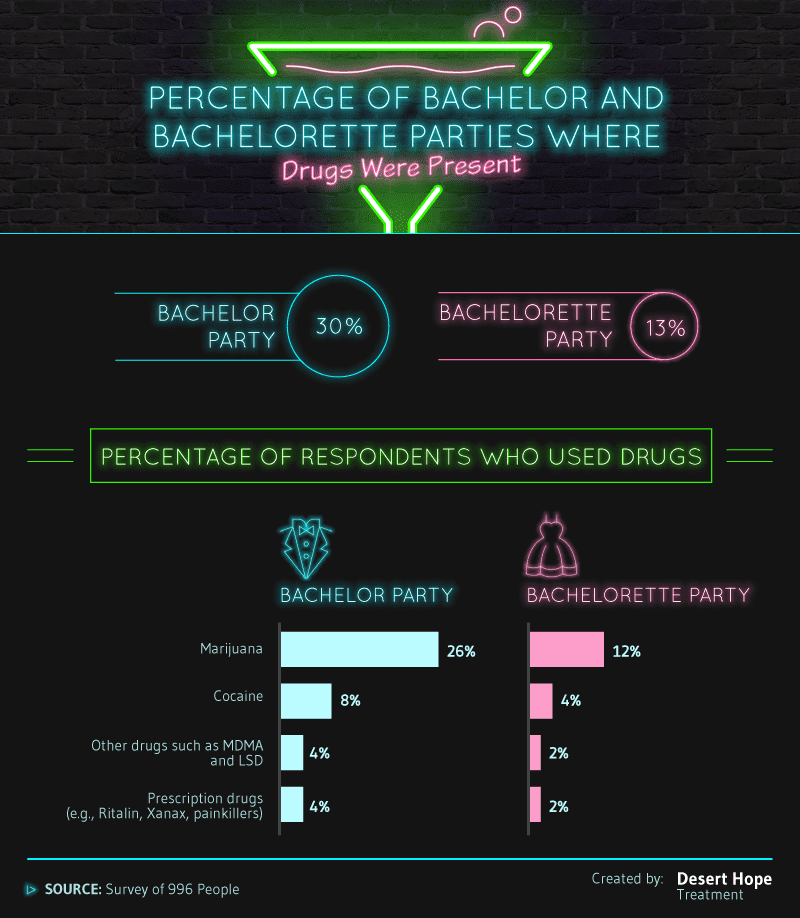 Sometimes the effort to make a bachelor or bachelorette party memorable involves substances beyond beer or wine. According to respondents, drugs showed up at 30 percent of bachelor parties and 13 percent of bachelorette events.
While marijuana was the most common substance in use (and legal in various capacities across 30 states), 8 percent of people attending bachelor celebrations said they used cocaine, along with 4 percent of people at bachelorette parties. Cocaine use can lead to depression, anxiousness, and irritability. More importantly, even casual use can lead to drug cravings or dependency over time.
Getting the Party Started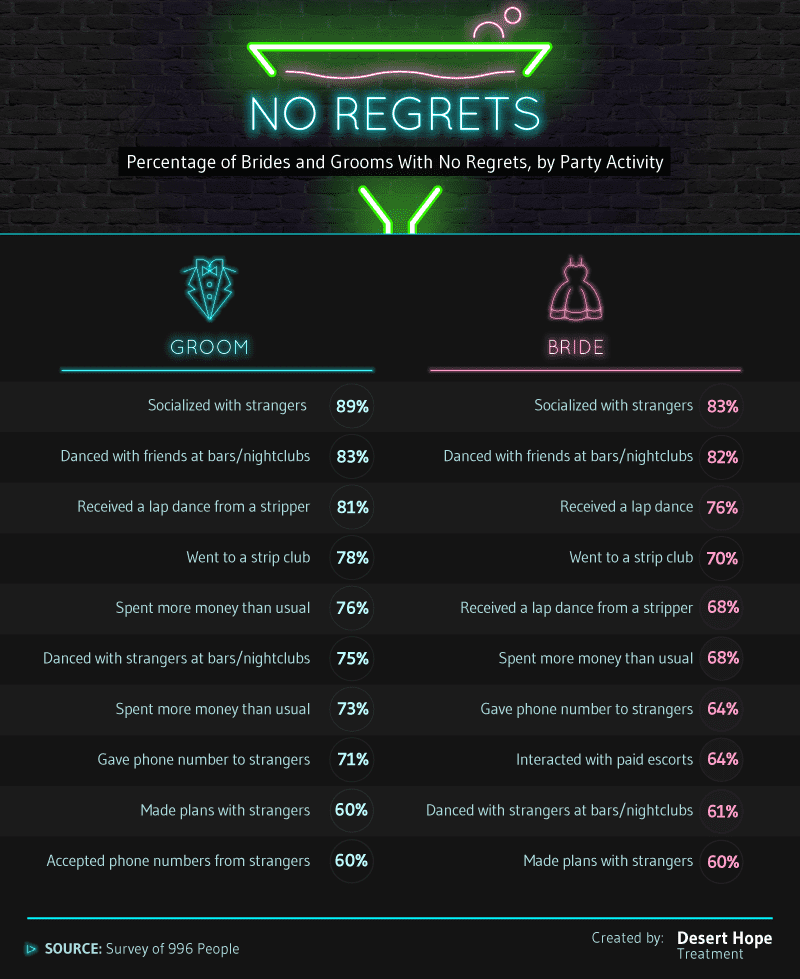 A bachelor or bachelorette party gone wrong might be something you only see in the movies; however, participants reported feeling very little regret for participating in bachelor and bachelorette activities.
Socializing with strangers was a behavior that 23 percent of brides and grooms admitted doing, and it was the least regrettable experience for both genders according to our study. Brides were more regretful of receiving lap dances from strippers compared to grooms, however. The most regrettable experiences for both brides and grooms stemmed from engagements with strangers – either accepting phone numbers or making plans with them.
Taking It Too Far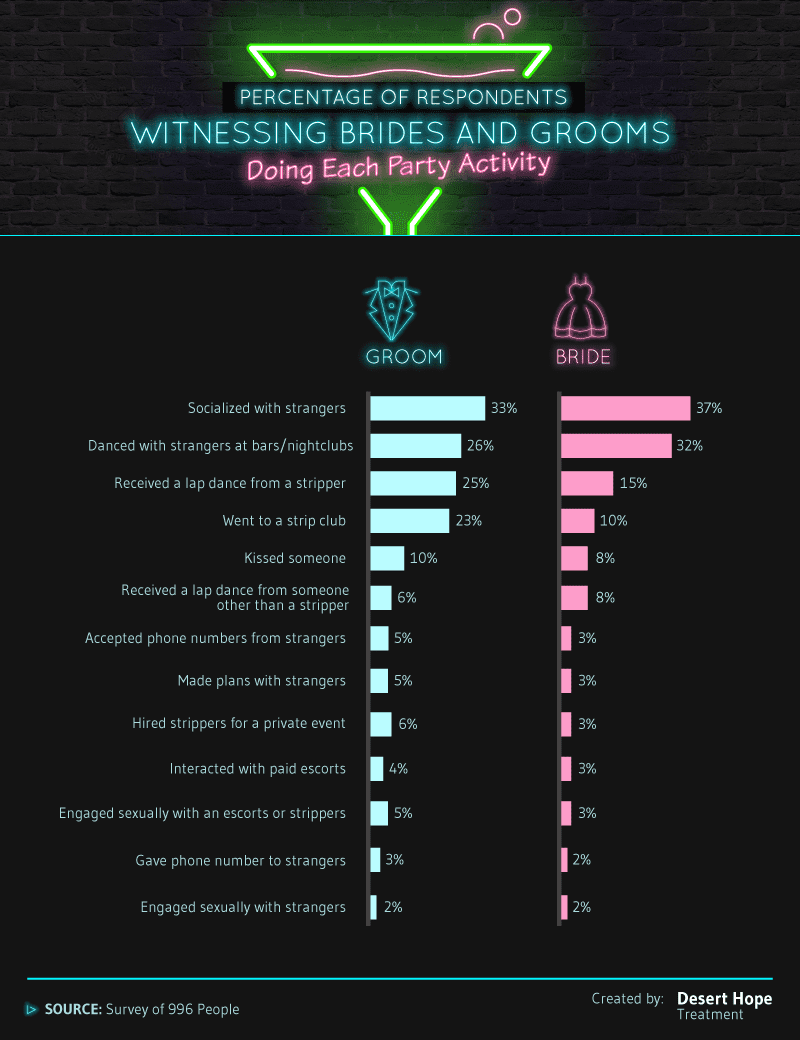 Friends and family members of the bride and groom aren't the only ones liable to take things a little too far during a bachelor or bachelorette party. Thirty-seven percent of respondents saw their brides socialize with strangers, and 33 percent said the same about grooms.
That might not seem like questionable behavior on the surface, but consider that more than 1 in 4 grooms danced with strangers, nearly as many got a lap dance from a stripper, and 1 in 10 kissed someone at the party. Brides were more likely than grooms to dance with strangers at bars or nightclubs (32 percent) but less inclined to kiss someone, go to a strip club, or get a lap dance from a stripper.
Recognizing the Signs
For most people, bachelor or bachelorette parties aren't just opportunities to spend time with friends and family; it's an initiation into married life and the last final hurrah of freedom before tying the knot. However, this pre-wedding celebration has also become synonymous with partying and drinking on a relatively large scale. As we found, where the bride or groom decides to hold the party can have a lot to do with whether the libations flow especially strong and just how rowdy and out of control everyone can get.
Whether you're looking to have a good time or just trying to go with the flow, it's important to recognize when substance consumption becomes substance abuse or addiction. At Desert Hope, our mission is to provide you or your loved one with the personalized treatment needed to overcome the chaos of addiction. With research-based, empathetic care, our team aims to provide hope throughout the challenging process of recovery. To learn more or to find a treatment facility near you, visit us at DesertHopeTreatment.com.
Methodology
To explore behaviors on bachelor and bachelorette parties, we surveyed 996 people. Eleven percent of respondents were brides, 77 percent were guests on the trip, and 12 percent were grooms. Forty-eight percent of survey respondents were female, and 52 percent were male. Respondents ranged in age from 18 to 71 with an average age of 35 and a standard deviation of 10 years. We asked respondents various questions about their participation in certain party events, as well as the number of drinks they consumed on an average day during the event. We also asked which venues the parties were held at. We used a scale from one to five, with one being "not very drunk at all" to five being "extremely drunk" to determine participants' intoxication. To create the "No Regrets" asset, we determined the number of respondents who participated in each activity. Then, we found the number of people who regretted each activity and divided that by the total number of participants. We reversed the percentages to find the percentage of those who did not regret the action.
We didn't perform any statistical testing on this project. This campaign is an exploration of behaviors and intoxication levels of people who attended bachelor or bachelorette parties. Because it is survey-based data, certain limitations apply, such as selective memory and exaggeration.
Sources
Fair Use Statement
Feel like sharing our study on the behaviors and activities taking place during bachelor and bachelorette parties? Go ahead and share these confessions, for noncommercial purposes only, but don't forget to link back to us to give credit.