Driving under the influence of alcohol is illegal in the United States. All 50 states have laws stating that a driver may not have a blood alcohol concentration (BAC) of 0.08 or higher. Driving while intoxicated is extremely dangerous, and being arrested for this can have consequences on one's life and career for years.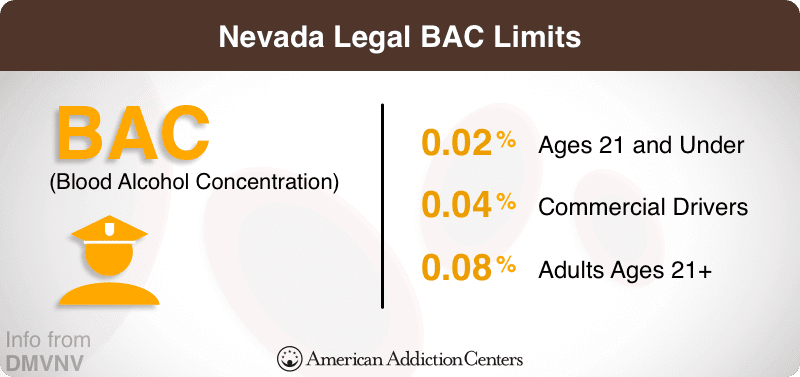 The Centers for Disease Control and Prevention (CDC) reports that 28 people die in the US on a daily basis due to motor vehicle accidents that involve alcohol-impaired drivers; this amounts to one death every 51 minutes. In 2015, there were 10,265 people who died due to DUI crashes, which accounted for 29 percent of all traffic-related deaths in the nation.
While other drugs, especially opioids and marijuana, are causing traffic accidents due to intoxicated drivers, alcohol is still the leading cause of intoxicated traffic accidents and deaths. Fortunately, fewer people are driving while under the influence of alcohol, as prevention measures around the country get better.
In Nevada, drunk driving laws include the 0.08 BAC limit for adults ages 21 and older. Other laws include a limit of 0.04 percent BAC for commercial drivers and a limit of 0.02 percent BAC for drivers younger than 21.
If a person is arrested for a DUI in Nevada, they may have their license revoked for 90 days, pay court fees to regain their license, retake driving and vision tests with the Department of Motor Vehicles (DMV), have their vehicle impounded, spend up to six months in jail, and be fined between $400 and $1,000.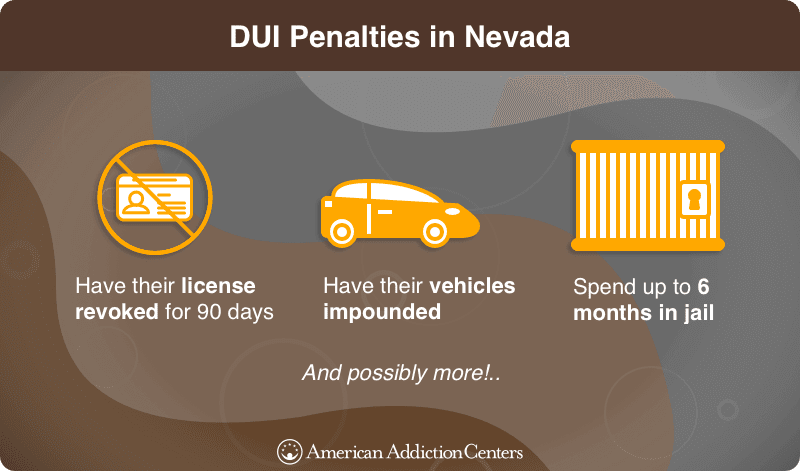 Unfortunately, many people still drive under the influence of alcohol in Nevada. Between 2003 and 2012, there were 1,025 people killed in car accidents involving an intoxicated driver. More people died in Nevada due to drunk drivers than in the rest of the nation. Out of every 100,000 residents in the state, 3.3 people died due to a drunk driver, compared to 2.8 people out of every 100,000 nationally. Most of the deaths involve people between the ages of 21 and 34, most of the individuals being male.
Since 2012, fatalities in Nevada caused by drunk drivers have been going up. In 2013, the National Highway Traffic Safety Association (NHTSA) found that there were 79 actual fatalities caused by drunk driving in the state. In 2014, that number went up to 93, and by 2015, the number of drunk driver-related fatalities had gone up to 97. In 2016, however, there were only 77 recorded DUI deaths, a decline of 11.4 percent – a sign that prevention measures may be working.
Nationally, 1.9 percent of people report driving after drinking too much. In contrast, only 1.8 percent of people in Nevada report driving while intoxicated from alcohol. This is in spite of higher traffic fatalities and crashes due to alcohol intoxication in the state compared to the country.
Las Vegas, one of the largest cities in Nevada, experienced a 40 percent decline in DUI arrests in 2015 compared to 2014; however, reports are careful to note that this does not, inherently, mean there are fewer drunk drivers on the road. The state has also experienced an ongoing rise in other traffic deaths, including motorcycle and pedestrian deaths. While these are not attributable to alcohol intoxication, there may be other drugs involved in some instances.