Finding Treatment Options in Mesa
Regional, State & Local Guides
---
National rates of drug abuse fall below Arizona's rates, making the state a risky climate for those who are predisposed to addiction. Compared to the national rate of 8.02 percent, past-month use of illicit drugs among Arizonans was around 8.95 percent in 2007-2008.[1] Meanwhile, 24.6 million Americans were considered to be current illicit drug abusers as of 2013.[2]
The good news is that a large number of those individuals who have been struck by dependency are getting help. A 2011 one-day sample of admissions in Arizona reported some 31,514 people in treatment.[3] Among all states in the country, Arizona is in the sixth spot for the highest rate of prescription drug abuse. Based on data collected between 2010 and 2011, 5.66 percent of residents reported misuse of prescription drugs, versus 4.57 percent of all Americans.[4]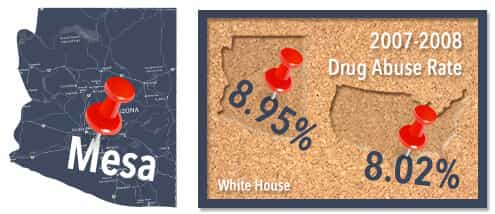 Substance Abuse Treatment Options
Treatment options are quite varied in today's substance abuse rehab world. Clients can fit drug and alcohol rehab into their daily lives via outpatient treatment, or put their complete focus on recovery via inpatient care. Treatment admissions to facilities in Arizona in 2012 numbered the following in relation to substances of abuse:
Marijuana: 4,918
Amphetamines: 4,474
Heroin: 3,067
Other opiates: 1,776
Cocaine: 1,063[5]
Drug-related deaths continue to rise in Arizona. The suicide rate in the state was 16 per 100,000 in 2007.[6] As of 2013, the rate was 12.6 per 100,000 nationwide.[7] Those who are fortunate enough to escape overdose despite abusing drugs like heroin and crack cocaine still face other risks. Not only can substance abuse come with losing important relationships, losing custody of children, and breaking up marriages, it can also impose some pretty hefty jail and prison sentences.
Possession of marijuana sentences start at two years behind bars and can extent to up to $150,000 in fines.[8] Being caught with heroin comes with a minimum of 2.5 years in jail.[9] While these charges are everyday occurrences across the United States, Mesa is specifically exposed to more drug trafficking-related crimes and seizures than most other states in the nation. This is primarily to blame on the strong surge of drug trafficking activity that crosses Mexican borders on a regular basis and infiltrates in the southwestern US.
In December of 2014, a Mesa resident was arrested for selling a quarter-pound of cannabis to an undercover cop.[10] Additional charges were later tacked on when the investigation led officers to discover another half-pound of the drug, large sums of cash, and drug paraphernalia in the woman's home.[11]
Drug trafficking charges bring serious consequences in Arizona. Individuals who push marijuana through the state are risking 12.5 years behind bars and hefty financial penalties every time. [12]
Ready to leave addiction behind?
Call now to speak to a consultant about your treatment options
Alcohol Dependence in Arizona
According to 2012 treatment statistics, 4,844 people sought treatment for alcohol abuse alone at Arizona facilities, in addition to 3,450 individuals who cited abuse of alcohol along with abuse of other illicit substances.[13] Alcohol abuse is a common trend across the nation, and the trend shows no signs of slowing down.
In 2013, 60.1 million people responded to a survey noting at least one episode of binge drinking within the month prior.[14] In the Mesa metro area, annual rates of past-month binge drinking averaged across 2005-2010 were just below the state average of 23.7 percent and national average of 23.2 percent at 23 percent.[15]
Mesa's Mental Health Climate
Around 4.5 percent of Arizona's population – at 294,000 of 6.5 million people – battle a mental health disorder on a daily basis.[16] Rates of severe mental illness are somewhat lower. In the Mesa region specifically, 231,000 adults experienced a major depressive episode in 2010.[17] Nationwide, 5-7 percent of the population has a severe mental health disorder, such as bipolar disorder.[18]
Many people who suffer with mental health disorders fall into depression or have trouble coping with extreme mood swings that can inflict everything from auditory hallucinations to suicidal thoughts. In 2006, 979 people died as a result of suicide in the state.[19] Mental illness also plagued 8,900 people in Arizona jails and prisons in 2008.[20]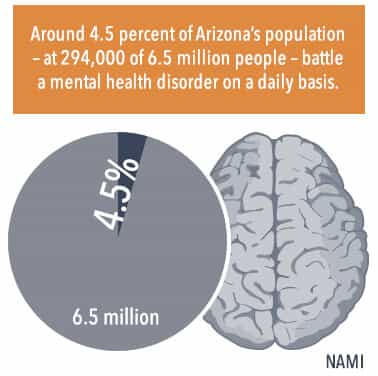 Help Is Available
There is no shortage of help in Mesa if you're looking to get clean once and for all. You aren't the first to fall prey to drug or alcohol dependency in this city, and you won't be the last. Mesa boasts 20 treatment centers where individuals can seek help in getting through medical detox programs and on with recovery.[21] Sobriety is within reach in the desert town of 464,704 people.[22]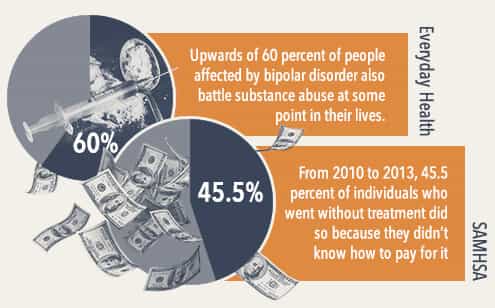 Half of the area's facilities cater to clients with co-occurring mental health disorders.[23] Thus, if bipolar disorder, depression, or another mental health issue is impacting your life and making it harder to quit abusing prescription drugs, you can find help here. Upwards of 60 percent of people affected by bipolar disorder also battle substance abuse at some point in their lives.[24]
Private facilities aren't available in Mesa, but a few are in nearby cities within Maricopa County. Individuals who are being remanded to treatment via court orders are generally sent to one of seven rehab units in the area that has specific experience in working with offenders who have substance abuse issues.[25]
Outpatient treatment is the most commonly preferred type of care. Generally, individuals need to find balance between getting help and maintaining their home lives, and this form of rehab best allows for that. It is offered at 14 facilities in the Mesa region.[26] For those who have tried outpatient treatment before and relapsed, or think they need a more comprehensive treatment regimen, inpatient care is also available at seven facilities in the area.[27] There are thousands of sober living facilities catering to recovering clients across America, and 12 of them are in Mesa.[28]
Since the development of the Affordable Care Act in 2010, insurance providers are now required to cover the cost of substance abuse treatment care. This certainly doesn't apply to individuals without healthcare though. For them, many facilities offer structured payment options. You may be able to make timely payments over the course of your treatment period. Other facilities may offer sliding scale plans that are aligned with your income. Moreover, social services and Medicaid are financial options for many in the Mesa area who need access to treatment they cannot reasonably afford.
Your health is top priority, and getting clean is the first step. From 2010 to 2013, 45.5 percent of individuals who went without treatment did so because they didn't know how to pay for it.[29] But you have choices even if you don't have health insurance. There are several resources in the local vicinity to help you, such as the Arizona Department of Health Services and the New Foundation. These organizations can also assist you in determining which facility best suits your treatment needs. Rest assured they will never recommend any treatment center that isn't up to code and operating within state and national guidelines.