Tucson, Arizona Drug Treatment and Alcohol Rehab Information
Spanning the roughly 226 square miles that make up Tucson, Arizona, are plenty of scenic views, but many who live in the desert mecca are in need of help.[1] The city is also home to a large number of people who are dependent on drugs and alcohol.
Regional, State & Local Guides
---
Drug Abuse in Arizona
Substance abuse rates are higher among Arizona residents than the rest of America combined, and Tucson bears no exception. Around 31 percent of adult Arizonans reported lifetime illicit drug use in 2010.[2]
Rates of drug abuse are specifically concerning among teenagers in Arizona. In 2011, 42.8 percent of high school students reported ever using marijuana.[3] In addition, 12.7 percent had used inhalants, 10.5 percent reported lifetime cocaine use, 4 percent admitted to having used heroin, and 5.2 percent had used methamphetamines at some point in time.[4]
Parents are often surprised by the high rate of substance abuse among teens, but these drugs are often not difficult for young people to obtain. Also in 2011, 34.6 percent of high school students in the state reported they had been offered or sold an illicit substance by someone at school at some point.[5] Nationwide, rates of substance abuse are lower among teens than in Arizona. National statistics for marijuana use by high school students in 2011 reached 40 percent; inhalants use was at 11 percent, and cocaine use at 7 percent.[6]
In 2003, Tucson was leading the nation in the number of annual drug arrests, and the figure was only continuing to escalate, especially among specific racial demographics. Between 1980 and 2003, the increase in drug-related arrests in Tucson was dramatic, at 887 percent.[7] During that timeframe, arrests of black people for drug-related crimes rose by 1,184 percent.[8]
Marijuana is the most commonly reported drug of abuse in the state with 91 percent of individuals who reported substance abuse in 2010 citing marijuana as a favored drug.[9] This is significantly greater than the 76.6 percent of people who abuse drugs reporting marijuana abuse nationwide.[10]
Marijuana is often thought of as the safest drug of abuse, but it comes in tow with a hefty list of adverse side effects and unhealthy outcomes. In younger individuals who use or abuse the drug, studies have reported impaired brain development as a consequence.[11]
In addition, younger age groups are being seen more frequently in emergency rooms for issues stemming from abuse of many illicit drugs. Abusing synthetic drugs like spice can be deadly. In 2010, 11,406 cases treated in emergency rooms across the nation involved synthetic marijuana, and 75 percent were among individuals aged 12-29 years old.[12]
Effects of Substance Abuse: Health Risks and Crime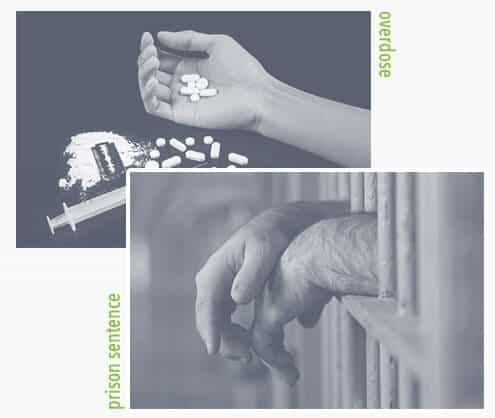 Substance abuse carries many risks. Normal side effects of substance abuse range from headaches, nausea, and constipation to paranoid thoughts, delusions, hallucinations, psychosis, depression, suicidal ideation, and other emotional and cognitive symptoms that can ensue within minutes of using certain drugs. Nonetheless, these may not even be the most severe outcomes. For example, heroin addicts may develop skin infections or contract STDs from unsafe needle-sharing practices. Cocaine abuse imposes serious risks of cardiac arrest and malnourishment. In 2013 alone, 327 people died in Pima County, Arizona, from drug-related overdoses.[13]
Drug-related criminal activity is highly prevalent in the Tucson area. In federal prisons alone, 94,700 inmates who were incarcerated as of July 2015 had a history of drug-related offenses.[14] The state's inmate population is expected to hit 43,000 people by 2016.[15] Nationwide, 1,561,500 people were being housed in correctional facilities at the end of 2014.[16]
Most of the time, law enforcement is well aware of trafficking practices and the people involved in them. The immediate goal isn't to arrest every single person who is transporting a bag of marijuana across state lines. If a dealer can lead law enforcement to bigger prospects with links to the international drug trade, officials may just keep a watchful eye on those individuals until they can make a large-scale drug bust.
Admissions to treatment within the High Intensity Drug Trafficking Areas of Arizona in 2010 were numerous. Cocaine use was cited by 492 people admitted to treatment that year, in addition to 1,660 citing marijuana abuse, 1,585 citing heroin use, 572 citing abuse of other opiates, and 1,679 citing methamphetamine abuse.[17]
Possession of marijuana can carry sentences of two years in jail while narcotics impose heftier sentences of 3.75 years. Trafficking illicit drugs like methamphetamine can bring long prison sentences in addition to fines.[18] Trafficking harder substances like cocaine and heroin can result in sentences of over 12 years in prison.[19], [20]

Desert Hope
Las Vegas, Nevada
Looking for Addiction Treatment in the Southwest?
Looking for Addiction Treatment In the Southwest?
(702) 848-6223

Your Privacy Is Guaranteed

We Can Verify Your Insurance