Las Vegas, Nevada Drug Treatment Centers and Alcohol Rehab Information
Regional, State & Local Guides
---
Las Vegas, Nevada, is recognized around the world for its party atmosphere, and this often correlates to higher rates of substance abuse and addiction.
There were 583,756 people residing within the city in 2014.[1] In 2010, 31.5 percent of the local population was comprised on Hispanic individuals while another 11.1 percent were Black or African American.[2] Increased rates of substance abuse are tightly correlated to individuals living below the poverty level and minority races, though nationwide, Caucasians are actually more likely to abuse drugs than African Americans.[3]
Around 17.1 percent of the people living in Las Vegas in 2013 were living in poverty.[4] Among the Native Hawaiian and Pacific Islander population in the area, 37.9 percent resided below the poverty level that year, as did 27.1 percent of Black and African American residents.[5]
Mental illness also shares a cause-and-effect relationship with substance abuse. Out of all people with any type of mental illness, 29 percent are also struggling with drug and alcohol abuse.[6] Poverty and mental illness are also often tightly intertwined. Individuals living in poverty are twice as likely to suffer from a common mental health disorder as those who are wealthy.[7] Poverty may be more likely in Sin City, which claimed the title of the city with the highest unemployment rate in August 2012.[8]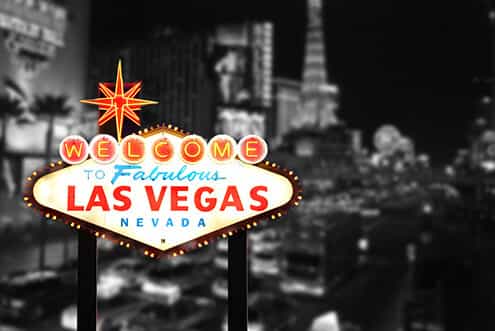 An additional factor to consider with regard to Las Vegas is gambling. Data has consistently supported the likelihood of co-occurring addictions, and gambling and substance abuse commonly co-occur. Among people who abuse drugs and alcohol, 10-20 percent are also problem gamblers.[9] Comparatively, only 2-3 percent of all American's fit the criteria for a gambling addiction diagnosis.[10]
Local Substance Abuse Figures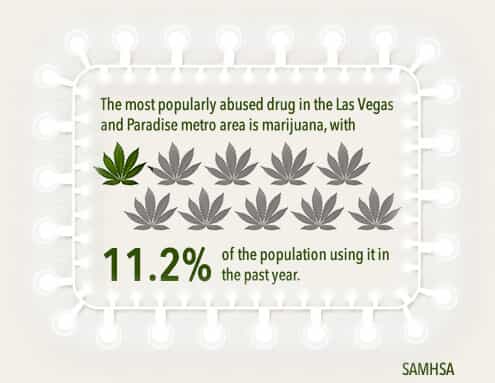 Drug abuse is prevalent in Las Vegas, and access to almost any variety of substance isn't hard to come by in this tourist mecca. The most popularly abused drug in the Las Vegas and Paradise metro area is marijuana, with 11.2 percent of the population using it in the past year.[11] This was lower than the 11.9 percent of all Nevadans using the drug that same year, but higher than the national rate of 10.7 percent.[12] Second in line is methamphetamine. Nationwide, the rates of abuse for these drugs are high as well. Marijuana abuse is also most common among all Americans at 19.8 million past-month users as of 2013.[13]
Prescription drug abuse is also expanding in the gambling mecca; an average of 6.7 percent of Las Vegans abused these drugs from 2005 to 2010, compared to just 4.9 percent of all Americans.[14] In the past decade, Nevada sales of hydrocodone have risen 233 percent and oxycodone sales have risen 366 percent.[15]
Additionally, alcohol abuse is rampant in a city that some 40 million tourists flock to every year.[16] Among the local population, 6.2 percent of residents are heavy drinkers and 17.8 percent are binge drinkers.[17] Rates of both of these methods of drinking are actually higher among all Americans at 8.2 percent for heavy drinking and 18.3 percent for binge drinking.[18] From 2006 to 2010, 19,147 people died in the state of Nevada, and 943 of those deaths were linked to alcohol.[19]
Rates of mental illness are high in Las Vegas. Among adults across the country, an average of just 6.6 percent suffered a major depressive episode between 2005 and 2010, while 8.2 percent of all Nevada citizens and 8.1 percent of those residing in the Las Vegas Paradise metro area did.[20]
These numbers are even greater in jail and prison populations, and Las Vegas bears no exemption. The Clark County Detention Center held 55,526 inmates in 2011, and 10.3 percent of them had a history of mental health issues.[21] This rate is actually lower than those across the nation. Comparably, 20 percent of prisoners in state facilities and 21 percent of those held in local jails have recent histories of mental illness.[22] Among all Americans, 61.5 million live with mental illness in a given year.[23]
Ready to leave addiction behind?
Call now to speak to a consultant about your treatment options
Crime and Death
Mexican black tar is the most popular form of heroin in Las Vegas.[24] It is smuggled in regularly from outside US borders. Border seizures of methamphetamine have jumped by 270 percent in the last 10 years.[25] Many people are behind bars serving time in Las Vegas for drug-related criminal activity.
The legal ramifications vary when it comes to drug crime in Nevada. Possession of small amounts of cannabis may only warrant small fines and a misdemeanor charge, but manufacturer, selling, and trafficking can impose life sentences and fines as high as $200,000.[26] Las Vegas law enforcement estimates one in 10 blood samples from impaired drivers involved in fatal incidents who are tested for marijuana would be positive, if they are tested at all.[27]
Harsher sentences come in tow with the possession, sale, or trafficking of drugs like heroin, cocaine, or prescription opioids. If you're caught trafficking more than 28 grams of heroin, you are at risk of spending 25 years locked up and liable for a $500,000 fine — both of which double if you are engaging in such activities near any school in the region.[28]
The death toll that has stemmed from drug-related incidents in Las Vegas appears to be on an upward climb. Deaths from heroin overdoses continue to rise in Clark County every year. While 44 people met their demise this way in 2012, another 48 followed in 2013, and 57 in 2014.[29] By halfway through 2015, the death toll reached 30.[30] There were 288 deaths resulting from prescription drug overdoses in 2010 in Clark County alone.[31]
Often, drug overdoses are intentional, but many are accidents, too. Thus, many people end up in emergency rooms seeking treatment following inappropriate use of prescription and illicit drugs and alcohol.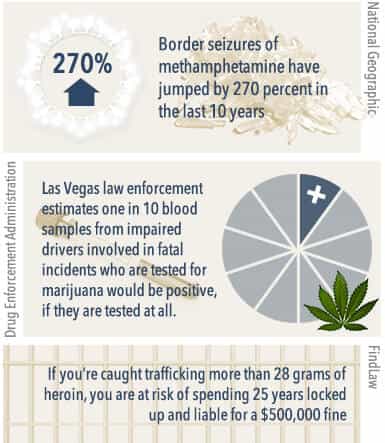 Mental illness is frequently at the root of most suicides. Las Vegas is known as the suicide capital of America with 34.5 per 100,000 people dying this way every year.[32] There were a dozen deaths among inmates at the Clark County Detention Center between 1999 and 2003, too, with many of them involving individuals who were battling substance abuse and/or mental illness.[33]
Getting Help with Substance Abuse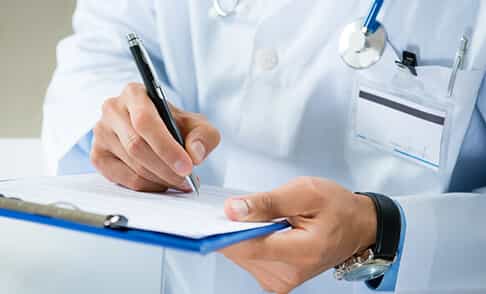 Las Vegas is home to 46 substance abuse and mental health treatment facilities.[34] Out of them, 29 facilities offer outpatient care in the county and 10 offer residential treatment.[35] There were 7,248 people in seeking treatment from Nevada rehab facilities on a given day in 2006, and 93 percent were outpatient clients. Over the last 10 years, methamphetamine has remained in the top spot as the most used substance among individuals who checked into substance abuse treatment in Las Vegas.[36]
Clients have the option of paying for treatment on their own — something many people choose even when they do have insurance in an effort to keep their experience private — or using health insurance benefits. Most plans today cover at least some portion of substance abuse treatment and even more pay for treatment for mental illness. State and federal aid are given via grants to many Nevada facilities every year, and much of it is passed on to clients. Some are even given free treatment based on financial need.
There are also 78 sober living facilities in the state to assist individuals in returning to life after substance abuse and addiction.[37] There is good news for problem gamblers, too – in a study of 400 clients treated in the state of Nevada for gambling dependency, 92 percent scaled back their gambling or stopped altogether following treatment.[38]
Treatment facilities in Nevada must abide by certain regulations. Licensure requires that treatment counselors:
Be at least 21 years old
Be an American citizen
Possess at least a master's degree
Complete a minimum of 2,000 hours of supervised counseling after graduation from an accredited degree program
Pass both written and verbal examinations
Pay all applicable fees for licensure[39]
If you need help with issues of substance abuse or mental illness, the following resources can provide you with more information:
Citations
[1] "Las Vegas city, Nevada." (2014). United States Census Bureau. Accessed Sep 11, 2015.
[2] "State & County QuickFacts." (2014). United States Census Bureau. Accessed Sep 11, 2015.
[3] Szalavitz, M. (2011 Nov 7). "Study: Whites More Likely to Abuse Drugs than Blacks." TIME Magazine. Accessed Sep 11, 2015.
[4] "Poverty Status in the Past 12 Months." (2013). United States Census Bureau. Accessed Sep 11, 2015.
[5] Ibid.
[6] "Substance Abuse and Mental Health." (n.d.). Helpguide. Accessed Sep 11, 2015.
[7] "Mental Health, Poverty and Development." (n.d.). World Health Organization. Accessed Sep 11, 2015.
[8] "Facts: Las Vegas." (2012 Sep 28). National Geographic. Accessed Sep 11, 2015.
[9] Nauert, R. (n.d.). "Problem Gambling Linked to Substance Abuse." Psych Central. Accessed Sep 11, 2015.
[10] Frazier, K. (n.d.). "Gambling Addiction Statistics." LovetoKnow. Accessed Sep 11, 2015.
[11] "Substance Use and Mental Disorders in the Las Vegas-Paradise MSA." (n.d.). Substance Abuse and Mental Health Services Administration. Accessed Sep 11, 2015.
[12] Ibid.
[13] "What is the scope of marijuana use in the United States?." (June 2015). National Institute on Drug Abuse. Accessed Sep 11, 2015.
[14] "Substance Use and Mental Disorders in the Las Vegas-Paradise MSA." (n.d.). Substance Abuse and Mental Health Services Administration. Accessed Sep 11, 2015.
[15] "Facts: Las Vegas." (2012 Sep 28). National Geographic. Accessed Sep 11, 2015.
[16] Ibid.
[17] "Drunkest Cities." (n.d.). Daily Beast. Accessed Sep 11, 2015.
[18] "Americans are Drinking More — A Lot More." (2015 Apr 23). NBC News. Accessed Sep 11, 2015.
[19] "Alcohol-related deaths: How does your state rank?." (2014 Jun 27). CBS News. Accessed Sep 11, 2015.
[20] "Substance Use and Mental Disorders in the Las Vegas-Paradise MSA." (n.d.). Substance Abuse and Mental Health Services Administration. Accessed Sep 11, 2015.